I just got back from a little vacation (thanks for the pizza and cupcakes, Chicago!) and along the way I got to meet a bunch of really awesome people. This also included getting to make grabby hands at
keraha along the way (I FANGIRL HER SO HARD JSYK). She is the one who made the Frank and Gerard statues that some of you guys asked about that were in the background of the nerdy raffle spam post, which you can see better here and here. She surprised me with a little moop statue and a pair of moopverse earrings and they are the CUTEST THINGS I HAVE EVER SEEN. I am not nearly so awesome so I had no idea she was going to be so generous so I repaid her with crappy doodles of Frank fangirling her and a naked dancing robot. Classiest~!

Moving on! Here are some pictures. I practically cradled the little Moop to my chest to make sure he didn't get broken on the plane ride home (and he didn't! Hooray!).





Little Moop Statue! He's about five inches tall, total.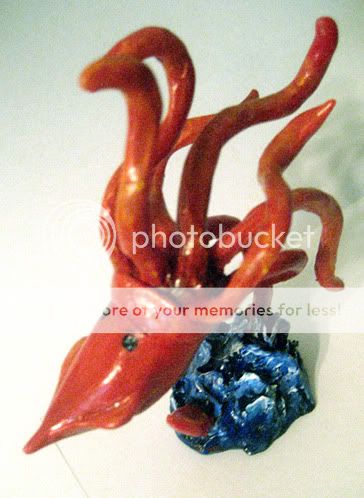 ahhhhhhhhhhhhh



look how cute they are ahhhhhhhhhhhhh



size reference!



action shot! I can practically hear Gerard's 'WHEEEEEEEE' from here.




♥______♥


p.s.
iamsupernova showed me this picture of a top that is TOTALLY Lyn-Z the Lionfish's style. Om nom.